ARGUS PLATINUM | IS-BAO CERTIFIED
Martini Travels partner Dreamline Aviation has the ARGUS Platinum Rating and IS-BAO Stage 2 Certified.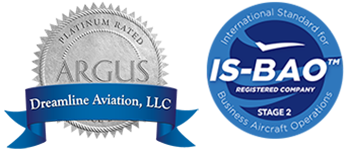 Safety Takes Flight: Prioritizing Your Security in Private Jet Travel
Our Aviation Partners Safety Management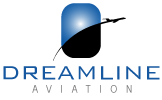 ARGUS Platinum Rating and IS-BAO Stage 2 Certification
For nearly four decades the Dreamline team has made safety the number one objective of every facet of our operation.  Dreamline holds the Platinum rating from ARG/US and has achieved IS-BAO Stage 2 (International Standard for Business Aircraft Operations) certification.  These ratings are awarded to operators who have incorporated the industry's highest Best Practices in flight and maintenance operations.
Aviation's Safety Management System (SMS)
Dreamline's Director of Safety oversees the Company's Safety Management System (SMS), which provides every department with ever-improving processes for identifying and mitigating potential safety risks.  Through these efforts, each and every employee understands his or her role in adhering to industry "best practices" while always seeking ways to improve them.
The Director of Safety also chairs a Safety Committee which meets regularly to review every department's adherence to safe practices and to implement or improve operational safety procedures.
An important component of our SMS is our Flight Risk Assessment Tool (FRAT).  Prior to each flight leg, the FRAT component of our Flight Operations Software calculates a safety score based on the airport data, crew experience, aircraft performance, and input from the pilot-in-command.  It then analyzes this information and produces a risk assessment score – for each flight leg.
Aviation Pilot Training
Dreamline's pilots receive the same simulator-based training as required by the Nation's leading airlines. Additionally, each receives intensive initial and recurrent training in Dreamline's stringent operational and safety procedures.